I's out! On Saturday I held the first copy of the "Handbook of Theapeutic Storytelling" in my hands. The translation of the German book "Handbuch des Therapeutischen Erzählens" has been published by Routledge (Taylor & Francis group) in London. Its 306 page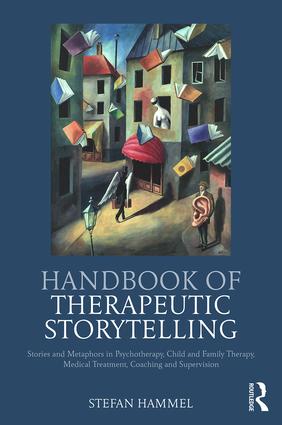 s cost 29.99 £ or 35 Euros (at shop.stefanhammel.de).
Here's what colleagues say about it:
"Clients present the limitations of their stories. Effective change agents offer stories that speak to the heart and elicit adaptive realizations. Stefan Hammel provides a blueprint for bringing therapeutic stories to life." —Jeffrey K. Zeig, Ph.D., The Milton H. Erickson Foundation
"These days, it's possible to learn all kinds of skills to communicate better with other people, but it's rare to find a book that teaches us how to become better at communicating with ourselves. This book is a treasure for learning to speak to yourself in a language that your mind and body can understand." —Ben Furman, psychiatrist, author and solution-focused psychotherapist, based in Helsinki, Finland. www.benfurman.com
"Hammel's Handbook is a gardener's guide for seeding and cultivating stories that encourage beneficial change towards well-being. He carefully scrutinizes the essential nutrients for stories that heal. He extensively samples their varieties and potential fruits. Then he carefully encourages us to explore own storytelling resources. This is a trove of inspiration for the minds of all who strive to be effective agents of health and care." — Prof. Laurence Irwin Sugarman, MD, FAAP, Director, Center for Applied Psychophysiology and Self-regulation, Rochester Institute of Technology Rochester, USA
"The book is like a string of universal pearls of wisdom; the string which unites them is a spiritual dimension of care. Among the pearls there are metaphors, parables, clinical cases, anecdotes, each of which awakens the readers' emotional and cognitive resources. The book is a source of suggestions that therapists, counsellors, and coaches can integrate into their practice." —Consuelo Casula, psychologist, psychotherapist and author, former President of the European Society of Hypnosis
"An old friend, a pueblo Indian named Steven Gallegos, refers to human beings as "the animal that tells stories." Thank you Stefan, for giving us this horn of plenty; a great collection of stories, metaphors and similes. This is a true treasure chest, filled with sparkling gems with ability to light up the path for those who wander from desert to desert, and for those who find their way from oasis to oasis. Old wisdom about being alive together, body and soul, here provides an irrigation system of storytelling. The well-structured design of this book helps me as a therapist to find momentary inspiration; dwelling in the book replenishes my own soul…" —Inger Lundmark, drama teacher, psychotherapist, family therapist and certified hypnotherapist, Stockholm, Sweden
The publisher describes the book like this:
The Handbook of Therapeutic Storytelling enables people in the healing professions to utilise storytelling, pictures and metaphors as interventions to help their patients.
Communicating in parallel worlds and using simple images and solutions can help to generate positive attitudes, which can then be nurtured and enhanced to great effect. Following an "Introduction" to the therapeutic use of stories, which closes with helpful "Instructions for use", the book is divided into two parts, both of which contain a series of easily accessible chapters. Part One includes stories with specific therapeutic applications linked to symptoms and situations. Part Two explains and investigates methods and offers a wide range of tools; these include trance inductions, adaptation hints, reframing, the use of metaphor and intervention techniques, how stories can be structured, and how to invent your own. The book also contains a detailed reference section with cross-referenced key words to help you find the story or tool that you need.
With clear guidance on how stories can be applied to encourage positive change in people, groups and organisations, the Handbook of Therapeutic Storytelling is an essential resource for psychotherapists and other professions of health and social care in a range of different settings, as well as coaches, supervisors and management professionals.