I am happy to present a story in Romanian, taken from the Romanian translation of my "Handbook of Therapeutic Storytelling"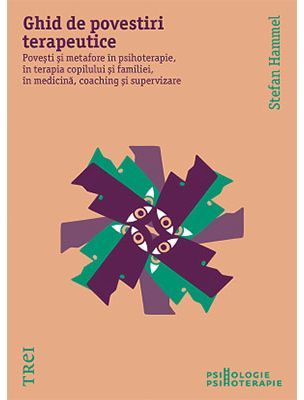 Translation from German by: Diana Rotaru / Traducere din limba germană de: Diana Rotaru
Găsirea sensului
Povestea "Scopul vieții" pune sub semnul întrebării ideea că ar exista niște finalități obligatorii pentru viețile tuturor și încurajează clientul să-și expliciteze propriile valori.
engl.: The story "Purpose of Life" questions the idea that there is some binding purpose to everyone's life and encourages the client to make their own values explicit.
Scopul vieții / The story "Purpose of Life"
— Scopul meu în viață este să las în urma mea cât mai multă alinare și fericire, i‑am spus unui prieten.
— Ai mari pretenții, a spus el. Eu sunt bucuros când reușesc să nu provoc prea multă nefericire.
– My goal in life is to leave behind as much comfort and happiness, I told a friend.
You have high expectations, he said. I'm happy when I succeed not to cause too much unhappiness.
Now available: Romanian translation of my book "Handbook of Therapeutic Storytelling"
TREI Cartea care te ajutá or Stefan Hammels shop.
Kind regards,
Stefan