Welcome to the Website of Stefan Hammel!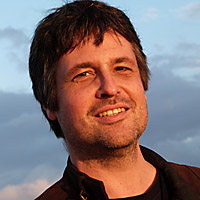 Stefan Hammel, born in 1967, works as a child and family therapist, hypnotherapist, and as chaplain in a general hospital and a psychiatric hospital. He is the leader of the Institute of Hypno-Systemic Consultation (Hypno-Systemische Beratung) in Kaiserslautern, Germany. He leads seminars on therapeutic storytelling, therapeutic utilisation, hypnotherapy and hypno-systemic strategies, as well as a 36 day hypnotherapy training following Milton Erickson including systemic skills and narrative techniques .
He was trained at the renowned institutes for Systemic Therapy in Heidelberg (International Society of Systemic Therapy "IGST" and Helm-Stierlin-Institut) and in the German Milton Erickson Society. He is an associated Member of the Milton Erickson Society in Germany.
Stefan Hammel has been doing presentations and workshops on international conventions such as...
Milton-Erickson-Convention (MEG), Bad Orb, Germany 2010
META Conference, Black Mountain, NC, USA 2011
Milton-Erickson-Conventions (MEG), Bad Kissingen 2012-2018
Congress on Suicide Prevention (IMHEL) Luxembourg 2013
Congress on Family Therapy (VPA) Graz, Austria 2013
Congress on Couple Therapy (VPA) Linz, Austria 2014
Congress on Storytelling (VPA) Vienna 2015
Convention on Therapy with Parts (Trenkle Org.) in Heidelberg 2015
Convention on Therapeutic Sculptures (SySt) Munich 2015
European Congress on Hypnosis (ESH) Sorrento, Italy 2014
20th World Congress on Hypnosis (ISH) Paris 2015
Ego State World Congress (MEISA), Cape Town, South Africa 2016
Convention on Children's Therapy (Trenkle Org.) in Heidelberg 2016
Convention on Systemic Therapy Frankfurt (DGSH) 2016
Convention on Systemic Therapy Heidelberg (WISL) 2016
Festival of Therapeutic Storytelling (hsb) Kaiserslautern, Germany 2016 and 2018
European Congress on Hypnosis (ESH) Manchester, UK, 2017
META Conference, Black Mountain, NC, USA 2018
Convention "At Eye Level" by the Milton-Erickson-Institute Innsbruck 2018
Convention on Therapy with Parts (Trenkle Org.), Heidleberg 2018
He is offering seminars at renowned institutes such as Gunther Schmidt's Milton Erickson Institute in Heidelberg, the Systemic Institute IGST in Heidelberg, and Prof. Varga von Kibéd's and Insa Sparrer's SySt-Institute in Munich.
Stefan Hammel is the author of several books. "The Blade of Grass in the Desert" is available in English and as a paperback and as an E-book. His "Handbook of Therapeutic Storytelling" will be issued with Talyor and Francis in 2018. His other books are only available in German for now.
His international blog can be found here.
His German website and blog can be found on www.stefanhammel.de.