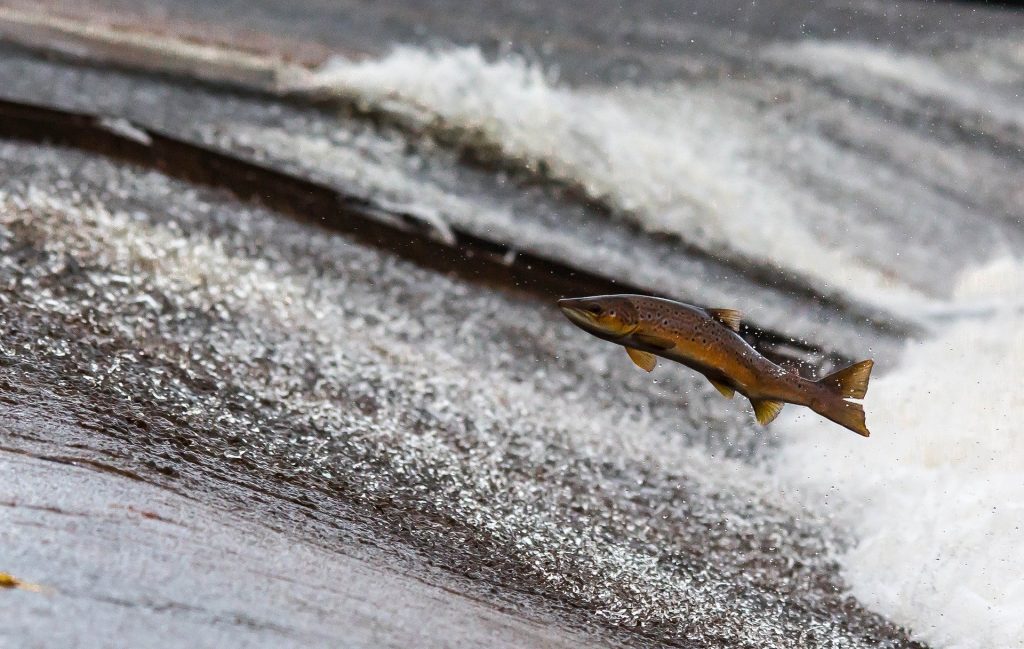 Here is a story about the salmon who went on a travel, translated into Swedish by my colleague Viktoria Carlsén.
The original German story "Vorankommen" is found in Stefan Hammel's "Handbuch des therapeutischen Erzählens", p.232f.

En lax vandrade längs sin årliga resa, längre och längre uppströms. Han klarade av starka forsar och att komma förbi enorma stenblock – och använde all sin styrka och skicklighet för att bestiga vattenfallet.
"Nu är jag snart framme" sa laxen till sig själv till slut. "Jag kommer ihåg att jag varit här förut – jag passerade här på min första kväll av resan nedför. Jag är mycket större och starkare nu, så jag kommer att nå min slutdestination om bara några timmar.
Laxen fördubblade sin ansträngning för han ville göra snabbare framsteg. Men när han gjorde det så verkade strömmen bli starkare. Vägen ned längs floden hade verkat enkel, men vägen tillbaka verkade vara ren tortyr. Ibland var han för trött för att simma, ofta saknade han koncentration för att hoppa ordentligt, ibland behövde han simma runt fiskarnas metspön och stativ och en gång hade han tvingats undvika tassen från en hungrig björn.
Om och om igen stannade han för att samla ihop sin styrka men floden fortsatte flyta mot havet. När kvällen kom märkte laxen att han inte gjort något framsteg alls, om nåt hade han åkt baklänges. Ledsen och besviken sökte han skydd mellan två stenblock vid flodens sida. Han tänkte för sig själv "Det måste vara möjligt att nå min slutstation – andra har ju lyckats klara av det. Men hur?"
Då fick den kloka fisken en idé "Jag ska sluta försöka nå dit så fort som möjligt, jag ska bara göra framsteg. Allt jag kommer att begära av mig själv är att jag kommer lite närmare mitt mål varje kväll än vad jag var på morgonen, och om jag gör så varje dag kommer jag så småningom att nå min slutdestination. Så länge som jag gör framsteg till vare kväll så spelar det ingen roll hur kort avstånd jag har rest – även om det bara är 1,5 cm".
Laxen skruvade upp sitt mod och började om igen. Vissa dagar gjorde han knappt några framsteg alls, men oftast färdades han mycket längre än han förväntade sig – och om han inte gjorde det, så kom han ihåg sitt beslut och var nöjd över det han klarat av.
Efter några veckor så nådde han sin slutdestination, en sjö nära flodens källa. Han tittade sig omkring och upptäckte att bara några få andra laxar hade anlänt till sjön före honom – de flesta höll fortfarande på att kämpa för att nå dit på kortast möjliga tid.
(Översättning: Viktoria Carlsén)